The weather is finally looking vaguely summery here in the UK [Ed. don't jinx it!] and the race season is heating up accordingly. Our sponsored athletes are even busier than normal this weekend, so here's a round up of everything they're up to:
At 13 years of age, Lauren Booth is our youngest sponsored rider and she's already startlingly fast! Recently she has been taking part in the U14 races in the Castle Combe Summer Series. It's road racing on the motorsports circuit of the same name, and Lauren's consistently done very well indeed: 2 first places so far and more to come we're sure! On Saturday she'll be competing on the track in the Southern Area qualifiers for the National Youth Omnium in Bournemouth.
Elliot Smales has been hitting it hard recently - he has competed every weekend for the last four weeks! Last weekend saw a spot of bad luck with a crash on the bike leg of the Blenheim Palace Triathlon, but he got back on and finished the race admirably. On Sunday, Elliot will be competing again at the Windsor Triathlon.
Sunday also sees the UK 70.3 Ironman Championships at Wimbleball, which 2013 Champions Richie Nicholls and Eimear Mullen will be competing in to defend their titles. Described at one of the toughest 70.3 courses ever, the bike leg takes a hilly loop through the Exmoor National Park before heading back to Wimbleball Lake for the mixed terrain run leg. Last year was Richie's first 70.3 race but he still got the win and broke the course record by a while 54 seconds. Both Ritchie and Eimear have had a great off-season in the Med and have done well in races so far this year (including a win at Challenge Rimini for Eimear), so we're looking forward to seeing how they do on Sunday!
Note: That's not Exmoor!
Kris King's Coasthunting challenge in support of the Huntington's Disease Association has been going since the 20th of May and continues through the weekend until its finish on the 22nd of June. Kris is running and cycling the entirely cost of Great Britain with 100 mile cycles and marathon runs each day. Yesterday, Kris completed his 9th marathlon so far and the weekend has two more century bike rides in store for him. He's now 95% of the way to his fundraising target of £15,000 - help finish it off by donating at his JustGiving page here.
The weekend also see the continuation of the Tour De Beauce and the Tour de Korea for our sponsored Pro-Continental road race team, Christina Watches.
The Tour de Beauce is a 5-day stage race in Quebec, Canada. Yesterday's first stage, a circuit race in Sainte-Justine, was won by Luca Benedetti with Christina Watches' Asbjorn Kragh Andersen coming in 3rd and putting himself into the Best Young Rider jersey. Asbjorn is in great form at the moment after winning the white jersey at the Grand Prix Saguenay. Local Yorkshire cyclist Jake Tanner is also riding, so keep your eyes out for him! Saturday's stage comes in at 172km with a hill finish to shake things up on an otherwise flat stage. A 20km individual time trial follows on Sunday before another circuit race on Monday.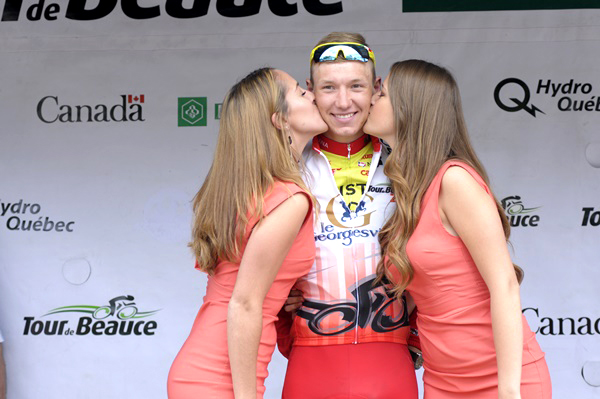 The Tour de Korea finishes this Sunday after a solid week of racing in the Far East. Stage 7 starts lumpy before dropping right down to sea level, only to climb back up to 960m in a brutal, 8.7% 1st category hill top finish.
Sunday's final stage is a bit simpler, a circuit race at Yangyang, but still includes two 4th category climbs to keep things interesting.
It's also City Cross in Leeds this weekend. Unfortunately our cross riders Dave Haygarth and Alan Dorrington are both unable to compete due to injury, but none other than our Brant Richards will be DJing at the event! Who knows what he'll be dragging out of his record crates...
Our clothing buyers Grace and Lauren are taking part in the Rother Valley Triathlon. It's their very first time doing any sort of race like this and they're getting started to help with the development of the new range of women's clothing they are putting together. They're very nervous but they're also raising money for Cancer Research, so why not help them out with a bit of sponsorship? You can text 70070 with their code LMGW99 and the amount you want to sponsor or via their JustGiving page, here. They'll be giving us a full report next week.
On a less athletic note, Planet X Social Media Guru, Steve, will be visiting Harry Potter World. It's his first time at HPW, but he has been training hard and has firm targets in sight. We're expecting great results from Steve and we're sure he'll succeed.
Good luck and all the best to all our sponsored athletes! We'll do a report next week with all the results. You can also keep abreast of all the developments on our Twitter and Facebook.
12 June 2014